ST. AUGUSTINE, Fla. (September 25, 2012) -- For the second consecutive year and after only its second year open, the St. Augustine Pirate & Treasure Museum was voted Best Local Attraction by the community in the St. Augustine Record's 2011 Best of St. Augustine contest.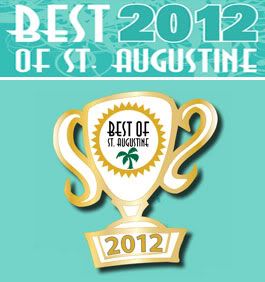 "It's such an honor that residents and Record readers think so highly of us," said executive director Cindy Stavely. "It's extra motivation to make sure their pirate experience here continues to be nothing short of amazing."
Each year, the St. Augustine Record and StAugustine.com host the Best of St. Augustine contest--this year is its 14th run—to give the community the chance to vote for local businesses they feel are the best at what they do. Over 14,000 people voted this year, according StAugustine.com.
"These are wonderful kudos and an incredible show of confidence in The Pirate Museum and our place in St. Augustine," said museum founder Pat Croce. "Thanks to all who voted us No.1 again!"
The museum will offer $2 off regular admission in the St. Augustine Record for a limited time as a special thank you to the community for voting the museum Best Local Attraction. The runner up in that category was the popular St. Augustine Alligator Farm and Zoological Park. See the full results.